It's important to set goals – and make them visible.
In 2016, Miikka participated in the Finnish Young Entrepreneurs' Get Together event the first time – and what a game changing event it truly was. He found many people of same age, with same kind of enthusiasm for entrepreneurship and for developing their own companies.
So – after a few drinks, Miikka took a piece of paper and wrote "My goal: To be the Young Entrepreneur of the Year in 2018." That would have been the first year when Woodartist had operated the required 3 years.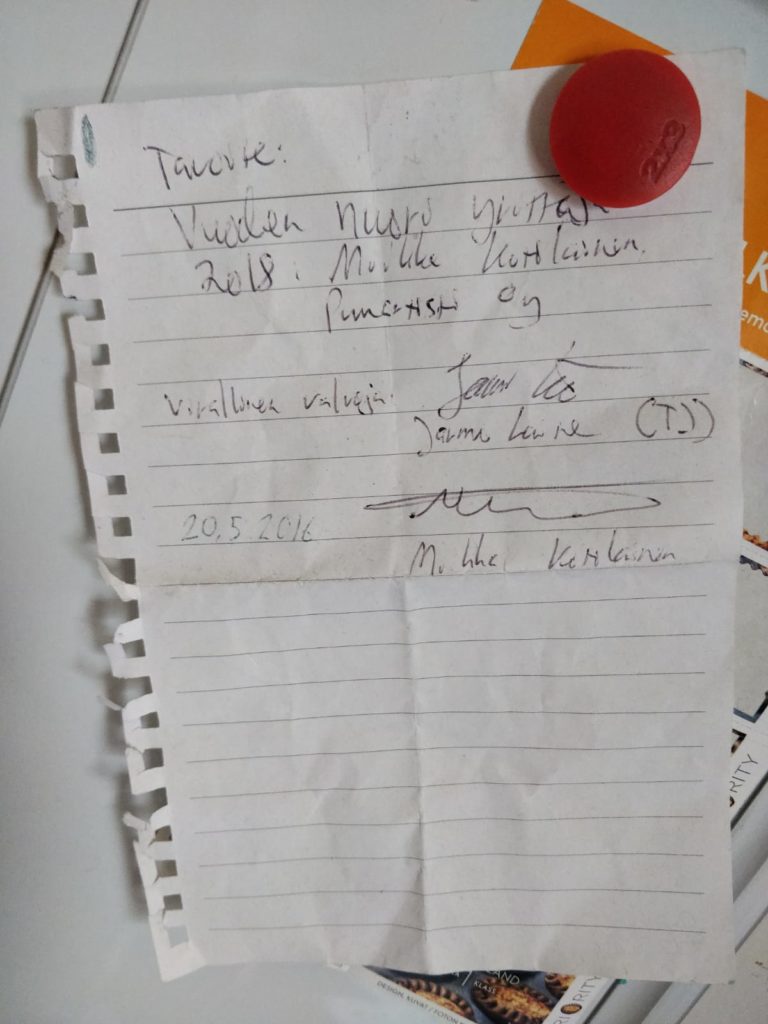 However, 2018 didn't turn out to be the year of any kind of awards. On the contrary, Woodartist was very much struggling with growth, and the workshop expansion took its toll.
Now, after two more years, it's safe to say that luckily we didn't get the award back then. Two years have brought such advancements that now the feeling to receive that award is totally different. We are very happy and grateful for the award and the future looks good at the moment, too: there are intriguing projects in our calendar, and at least for now, the covid-19 situation is not affecting us dramatically.
Award for brotherly cooperation
North Karelia Young Entrepreneur of the Year 2020 award will be given to both entrepreneurs of Woodartist: CEO Miikka Kotilainen and COB Joona Kotilainen. Since the beginning, Miikka has taken care of everything operational at the workshop while Joona has been building the brand of Woodartist and managing communications since day one. The first logo and website were done by Joona, and later on the team of Tovari Marketing, Joona's company, have stepped in to help.
The stories of Tovari and Woodartict are actually even more intertwined, as Tovari had their first official office space at Woodartist workshop. Four of Tovari's employees sat there side by side, in the same room where Miikka now does the drawing and designing work alone or with max. one other person 😀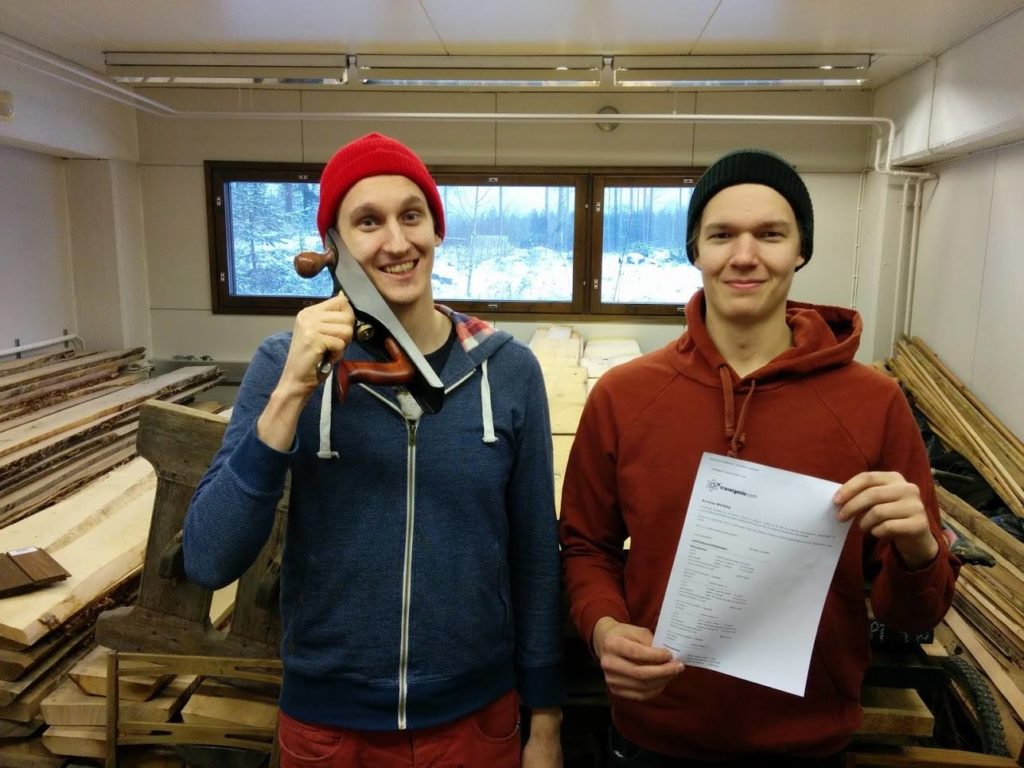 Picture is from 2015, when both of the Kotilainen brothers had offices in the same workshop building.
The roles have been clear since the beginning.
Like Joona put it: "We have this joke that I don't do anything in the workshop because I would lose fingers, and Miikka doesn't write anything on Woodartist's website or social media, because the company would lose its reputation. It's easy to work together when you rely completely on the other person's strengths and expertise in their field."
One reason for Woodartisti receiving the award is the new approach to woodworking: the storification of the projects. Not that many woodworkers share what they do to the same extent. Also the values behind Woodartist's work have been thought through since the beginning and everything that Woodartist communicates is based on those key values. Consequently, the stories are not made up but they sprout from real life, real projects and real goals.
Bigger goals
There's no denying that the goals have grown, too. In the beginning, Miikka was calculating that "it would be awesome to employ one other person beside himself".
Now the number of employees is 6, the workshop has expanded from 300m2 to 900m2, and new plans include building our own sawmill with a wood-drying kiln. One day there will also be a Visitor Center that is both a local attraction and an inspirational space to do furniture design in.
Also the projects have grown in size and variety – if we started with individual table tops, now we have been working on a whole sauna / spa department for the video game company Supercell. Each and every project on the way has been important to take us where Woodartist wants to be – world's best woodworking company. A Finnish, Kontiolahti-based woodworking company that collects storywood and makes furniture with intriguing stories to tell.
Our heartfelt thanks to each and every one of you who have been supporting us on our journey!
💗 Miikka ja Joona