Puuartisti (Wood Artist) is a Finnish woodworking business with a focus on unique projects ranging from individual pieces of furniture to complete interior design installations, wooden buildings and structures. We are not a factory with assembly lines, but instead we are a bunch of ambitious cabinetmakers and fine woodworkers who design, manufacture and finish everything according to the customers' individual needs and desires.
We are on a quest of pushing the limits of woodworking, because we believe that wood can be used to almost anything – it's only a question of creativity and talent. In all our projects we use pure solid wood, which we also combine with other materials such as glass, metal and stone. At our workshop in Kontiolahti, Eastern Finland, we have space and equipment to carry out large-scale projects and we can do installations around the world.
Recently we have also been preparing the launch of our own furniture collection. The core idea in our collections is to use wood materials that carry a special meaning – the growing location and history of which we know and want to pass on to the customer in the form of the furniture. Then we will make small, limited editions of furniture from the specific material. We also make personal storywood items by turning customers' own wood materials into family treasures.

Long before Miikka dared to say it out loud that he wanted to start his own company, the spirit of Puuartisti was clear: let solid wood show its natural beauty and versatility in furniture and wooden structures that are durable and that age beautifully. Puuartisti would never produce anything in mass. Instead, every piece is unique with its own story to tell. When Miikka was still employed by others, the idea about entrepreneurship started to sprout. His dream was to do everything his way – without compromising.
Finally, getting fired was the final push for Miikka to enroll in an entreneurship course and start sparring his business idea with business coaches in the fall 2013. At the same time he was already working on some pretty big customer projects through a cooperative, after which it was easier to finally move under his own roof.
And the roof was found from Kontioranta, Finland, when the old garrison buildings were sold for business use. So this one-man workshop found its home amidst the North Karelian pine forests just before Christmas in 2014. The building had been used as a storage and as a battery maintenance unit, but now the interior got filled with woodworking machinery and tools, and soon the first projects got out of the workshop and into the homes of new customers.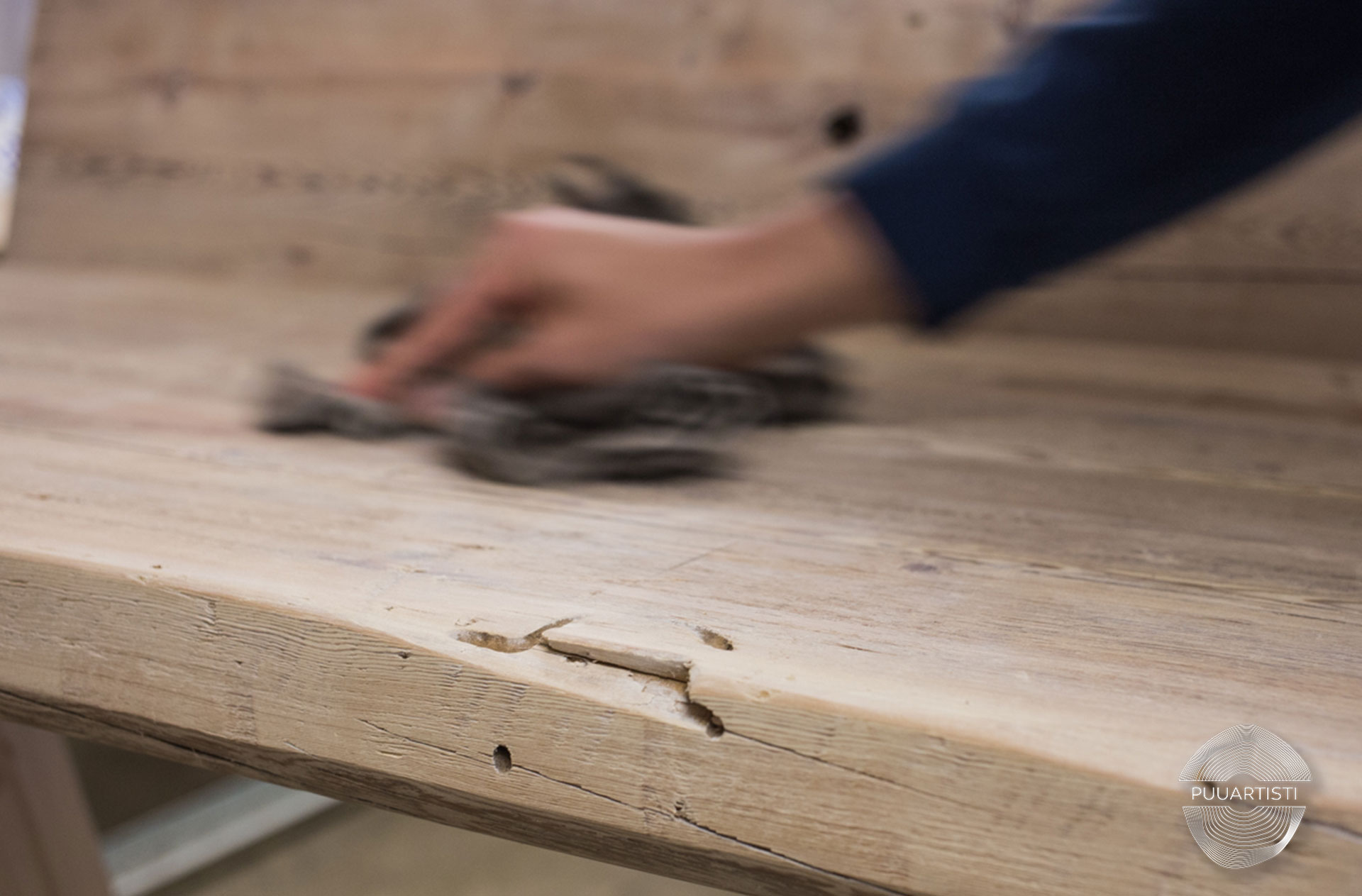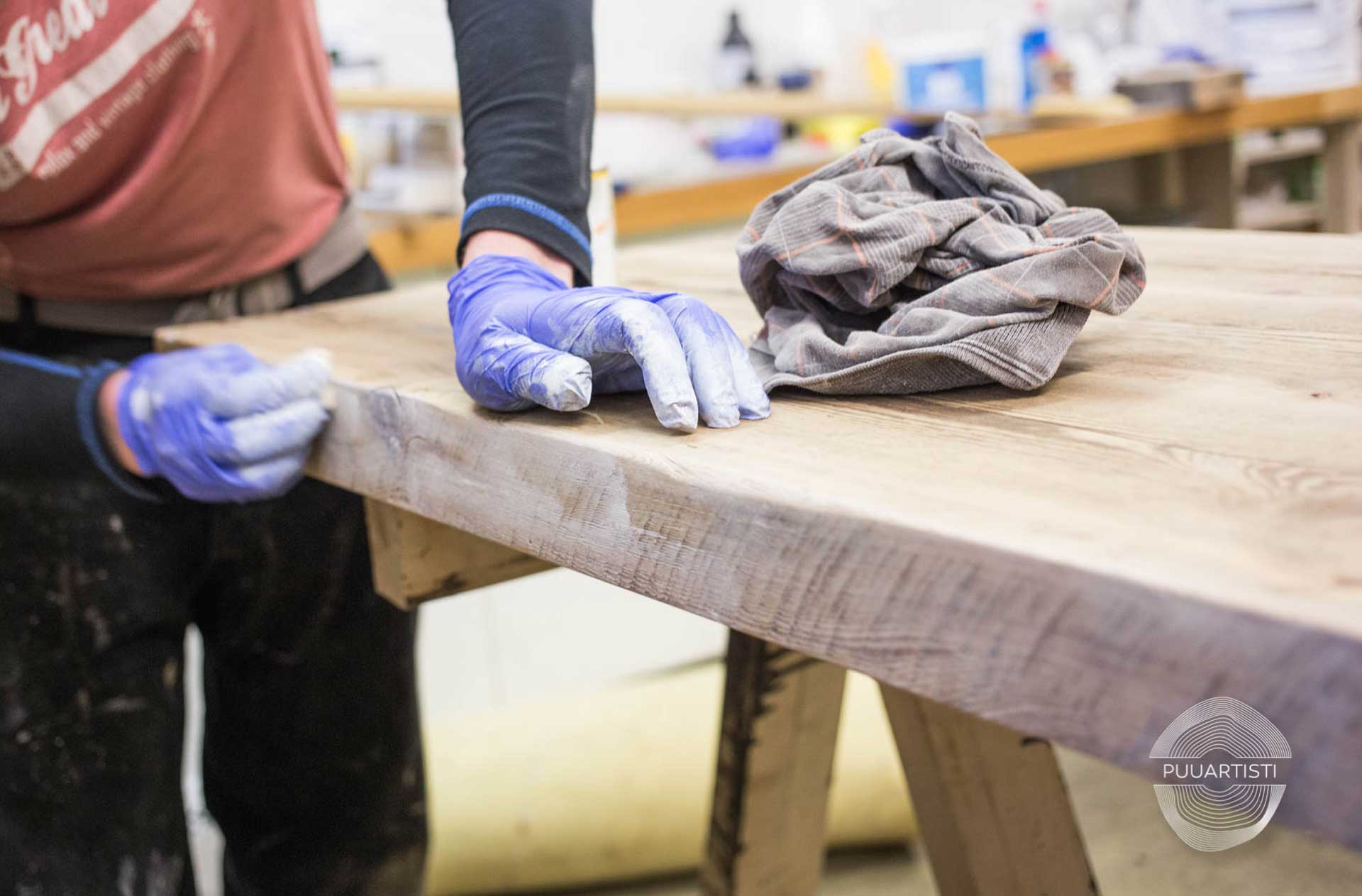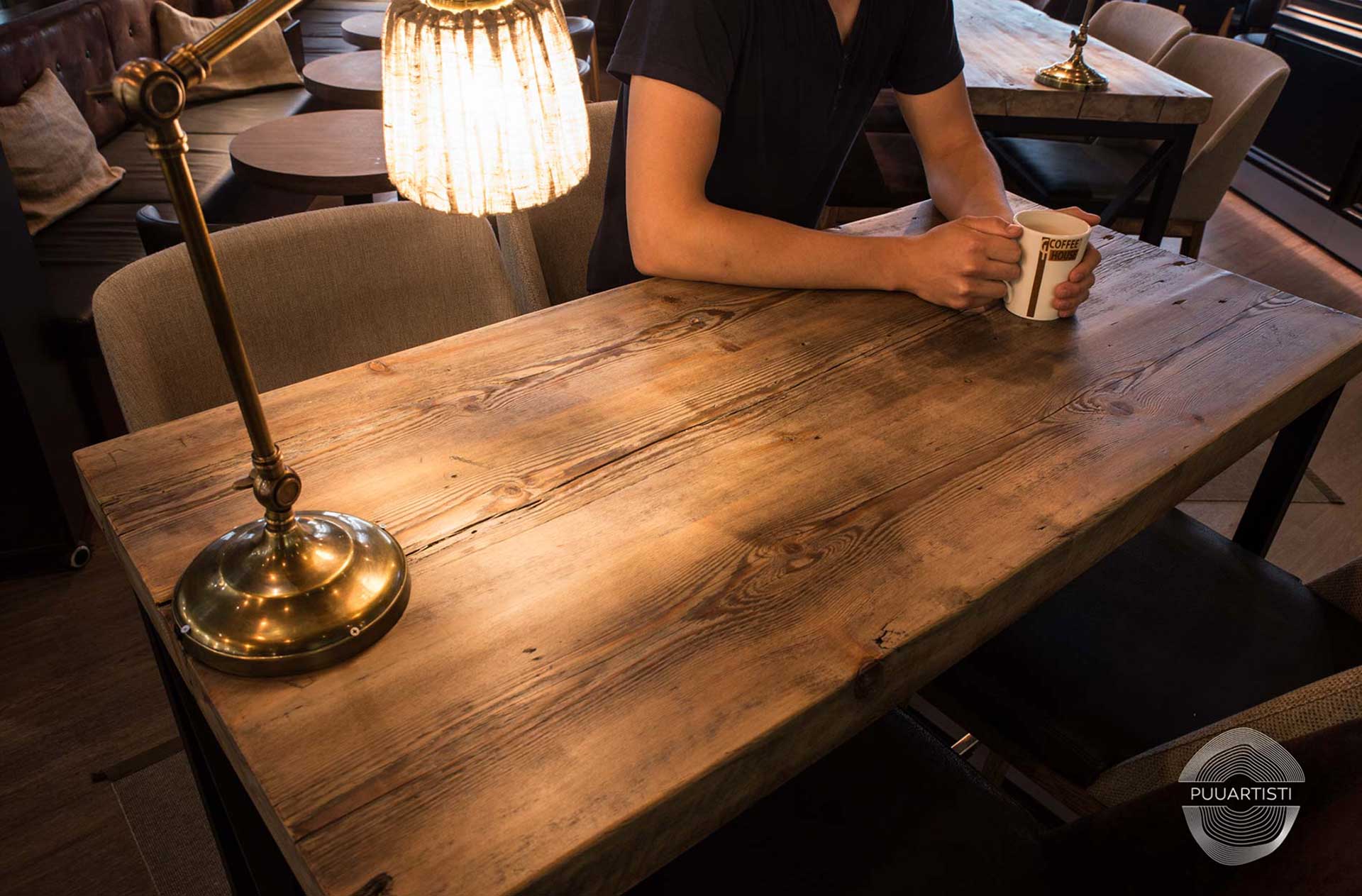 Teamwork and craftsmen's pride
It didn't take long until the projects grew bigger and more complex, as Puuartisti was noted by customers near and further. It became clear that one pair of hands was not enough. Today, Puuartisti employs four other skilled woodworkers and different personalities: Mika Kareinen, Niilo Nissinen, Evgeny Rongonen and Oskari Rentola.
What is in common with these people is the passion for craftsmanship and unique projects. When there is no set formula how to do things, you have to be able to "see things" and solve problems without a manual. Each artist is also committed to learning. This is what Puuartisti is all about – the shared goal to fulfill customer's wishes with a unique outcome, when everyone works together, using their own specific skills.
Even though the pace of growth has been almost overwhelming, the spirit of Puuartisti can't and won't change. Living and breathing this traditional, yet modern craftsmanship means that we will stand for our work and develop our skills all the time, while we set higher goals for ourselves all the time.
We won't be aiming for the fastest, easiest and most straight-forward way to make something. Instead, we focus on thoroughly planned, functional, timeless design and execution that pleases the eye for decades to come.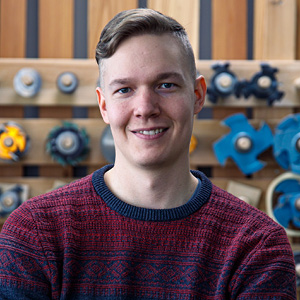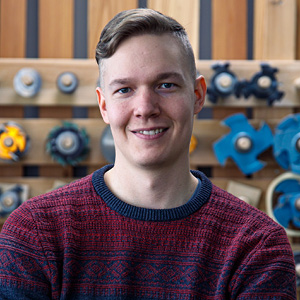 Miikka Kotilainen
In the early stage, Puuartisti equalled Miikka. But soon his role evolved from running a one person company to leading a proper team. Finding the right team members with similar kind of passion and determination for woodworking has been the crucial step towards Miikka being able to concentrate on the bigger scale. His role is in the center: communicating with clients, interior designers, craftsmen from different fields as well as managing the actual execution of the project.
Apart from this, he is committed to developing Puuartisti as a whole – the workshop, new methods for woodworking as well as his personal skills. However, Miikka doesn't want to sit all day designing and planning, but often he finds himself in the sawdust; testing, refining and finishing something concrete.
Testing and figuring out how things work has always been an essential part of Miikka ever since he was a child. Sometimes the features of different wood materials have been researched with an axe, sometimes with soaking them in a water tank. Nevertheless, the continuous habit of doing things manually, by hand, has given perspective to 'official' wood artisan studies that Miikka completed in 2008 and inspired Miikka to come up with creative solutions even to seemingly simple problems. At some point Miikka started engineering studies in wood technology, but entrepneurship won – as a lifestyle with continuous learning and applying new things straight into action.
For Miikka, entrepreneurship essentially is about continuous learning and development, which is built on a happy team and bad jokes in both the workshop and the break room. The biggest source of motivation for Miikka is the expression on a customer's face when they see how their vision has turned into something concrete in the hands of Puuartisti: when both think that the end result is beautiful, functional and exactly what was sought after.
Miikka seeks inspiration to his work from nature. It's not only the fact that a nice stroll in a forest lets his brain cool off – but also that the different shapes, colours and textures might someday turn into new, creative designs.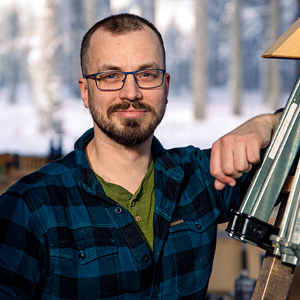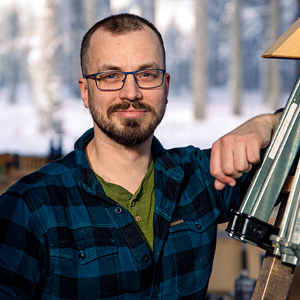 Mika Kareinen
You're lucky to find a guy who is more precise than Mika. If he can't get enough of detailed work during workshop hours, you will find find him relaxing while doing something 'pretty precise' like archery or axe-throwing on his free time.
Mika has been into woodworking since he was a young boy, but at first he thought he didn't want to ruin a nice hobby by making it a profession. However, after years of working in the electricity industry, he couldn't help but follow his dream and completed the wood artisan training in the same institute as Niilo and Miikka.
He has also has been working in a pretty hard-boiled environment – in a jail. After he graduated, he worked in the prison, teaching the long-term prisoners furniture-making and restoration skills. He has also been working on his own projects through a cooperative and his own trade name.
Wood is truly the one and only element for Mika: warm, soft and easily approachable. For instance, he has made collections of wooden jewellery from curly birch and birch burls that reveal their beautiful grain figures after a skilled colouring. Mika enjoys spending time and getting inspired in nature, while roaming the forests with his Samoyed-Finnish Lapphund called Jelmu.
What motivates Mika at Puuartisti is that the company never ceases to develop and grow – in many ways. He is determined to put all is focus on pulling off the more and more challenging projects with accuracy. Like the other artists, Mika enjoys getting out of his comfort zone while learning something new – we will see what kind of new tricks he will perform in the years to come!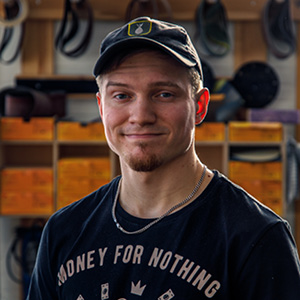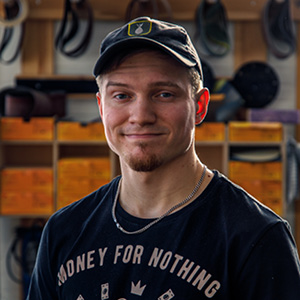 Evgeny Rongonen
The youngest of the team at the time, Evgeny, joined the team in early 2019. Despite his age, he has achieved a lot – in the Finnish national skills competitions (Taitaja) he got second in his second study year and won the championship in his third year. After that, he was asked to join the jury in the finals. And he is only getting started – next he is aiming at Master Cabinetmaker qualification – perhaps as the youngest person ever in Finland.
Evgeny was born in Petrozavodsk, Russia, and he has been living in Finland since the age of 7. He has learned craftsmanship skills also as a family tradition, as his grandfather has been doing a lot of carving, and his father has been helping young Evgeny with scale models one day, and building a rocking chair on the other. When the woodworking lessons started at school, Evgeny's teacher could immediately tell that he knew what he was doing and urged him to continue – so Evgeny chose woodworking studies in Joensuu.
Evgeny is the type of person who really delves into the specific thing he wants to learn. Besides schooling and training, he has spent hours and hours watching YouTube videos and googling – and then transferring what he just saw into practice.
For Evgeny, work duties needs to be interesting and varied – as he even said that if he was forced to work on a factory line, he would "rather change profession and drive a truck instead". Actually, motor vehicles are his second love after woodworking, and he uses a lot of his free time for polishing and fine-tuning his latest car purchase.
Susa Tanninen
We will update the story soon 🙂
Anders Pape
We will update the story soon 🙂
Petteri Soila
We will update the story soon 🙂
Petri Tuovinen
We will update the story soon 🙂